Culligan's reverse osmosis systems
Increased efficiency with Culligan's Reverse Osmosis Systems
Using the latest membrane technology, Culligan can deliver an a RO system that is very easy and quick to install. Culligan has decades of experience and has already installed thousands of RO installations all over the world.
Reverse osmosis (RO) uses semi-permeable membranes to separate water from substances in it. By applying pressure, the water is pressed through the membrane: the pure water (permeate) is separated from the water that contains the salts. The osmosis membrane, which implements the highest level of filtration, acts as a barrier not only to the salts and inorganic substances, but also to the organic substances weighing more than 100 daltons: it is therefore also an excellent defense against micro-pollutions, pesticides, pyrogens, viruses and bacteria.
Culligan IW Evo Series Reverse Osmosis
(flow ratio 5 – 40 m³/hour)
The IW Evo RO series from Culligan is designed to meet your most demanding and exacting commercial, industrial and municipal water requirements.
Available in 7 models for flow rates from 5 to 40 m³/hour (22 to 176 GPM) and able to handle a salinity of up to 3000 ppm TDS.
With an innovative modular and standardized design, Culligan is able to offer top quality construction, fast delivery times and competitive prices. The units are delivered turnkey for quick and easy installation. They can be fully configured via a wide range of optional accessories.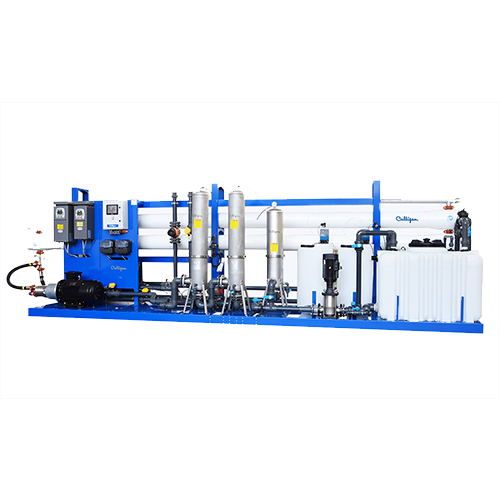 Culligan SW Evo (Sea Water) Series Reverse Osmosis
(flow ratio till 60 m³/hour)
Culligans Seawater reverse osmosis (SW) series offers a cost effective and reliable solution for customers in water-scarce regions. The desalination units are suitable to treat water with a salinity of up to 45000ppm up to a flow rate of 60m3/hr on standard range (plants with larger flow rates available on request).
SW RO units are modular and can be easily connected to manage larger flows as required. Materials of construction are suitable for high salinity waters using duplex 2205 high pressure pipe pickled and passivated for corrosion resistance.
Units are skid mounted for ease of installation, and thanks to Culligan's modular standard designs you are assured fastest possible delivery times.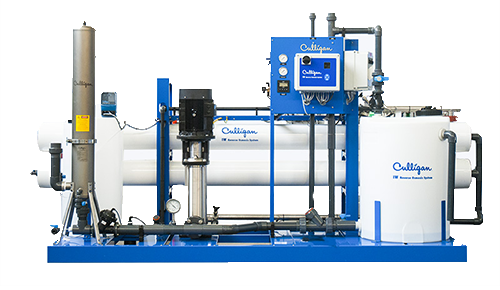 Culligan G1-E1 Series Reverse Osmosis
(flow ratio till 0,35 m³/hour)
The G1 RO is a compact RO system designed for high-performance commercial and light industrial applications. Equipped with digital flow meter for product-discharge, pressure gauges for pressure control in and out, online instrumentation for produced water quality and recovery ratios and high efficiency reverse osmosis membranes. The unit utilises the Culligan Smart Controller which as well as monitoring the system provides full text display in 4 languages and several flushing modes. The smart controller allows modular configuration of the units into two pass and alternating configuration as well as simple connection to networks such as building management systems or PLC's.
The M1 RO system, with enhanced features, is designed for commercial applications that require a maximum flow rate of 350 liters / h. The system is either wall mounted or can be supplied with a floor stand. The M1 is equipped with a pre-treatment sediment filter, flow meters and pressure gauges for the control of the inlet pressure and output. The unit is controlled via the Culligan CP control panel.
Culligan AquaCleer SB200 Series Reverse Osmosis + integrated pre-treatment
(flow ratio 0,2 – 3 m³/hour)
Aqua-Cleer SB 200 is a complete water treatment system which includes reverse osmosis system as well as pre-treatment, all assembled on a small footprint skid for simple installation in any location. Ideal for installations such as food service that require softened water for some applications such as dishwashers, and reverse osmosis for beverage preparation e.g. coffee preparation.
The system consists of an ion exchange resin softener, brine systems, microfiltration, reverse osmosis water dechlorination and pressure accumulation tank.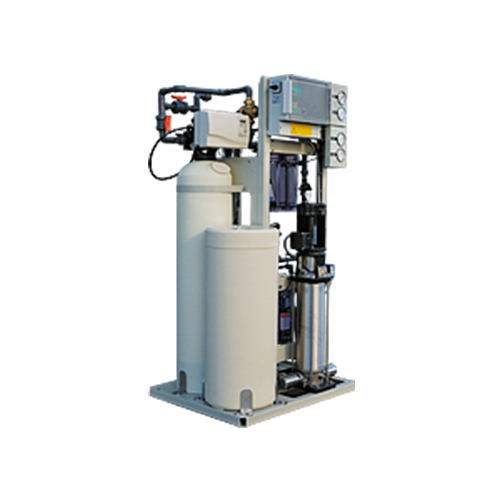 Culligan MFP Series Reverse Osmosis
(flow ratio 0,4 – 3,6 m³/hour)
Using the highest quality components and construction methods, the MFP reverse osmosis unit is ideal for drinking water and industrial processes in any location.
The system is modular and compact and has been designed with robustness and longevity in mind. The MFP RO is mounted within a steel frame with no welded parts, guaranteed against corrosion. The system is controlled via an electronic control panel which monitors all operating conditions and displays flow, conductivity and other operating parameters.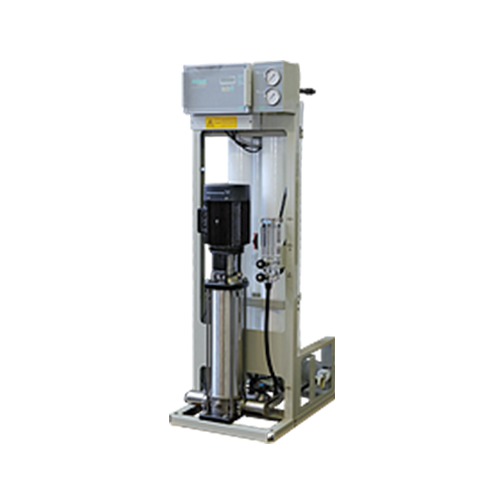 Culligan IW Series Reverse Osmosis
(flow ratio 5 – 100 m³/hour)
There are no limits to your water quality, no matter how much the Culligan Aqua Cleer IW series of reverse osmosis units treats water to meet your demanding industrial needs. Using the latest membrane technology and the IW reverse osmosis series, large amounts of water are treated and water contaminants are reduced. For quick installation, the units are mounted on a mobile pedestal and thanks to their standardized design, they can be delivered quickly, up to 40% faster than locally constructed units. With materials such as AISI 316 Stainless steel, PVC and polyethylene, the tubing is food grade and corrosion resistant. You can operate the system using the local control panel or via an electronic touch panel PLC.
Improved water quality improves industrial processes by eliminating contaminants that cause equipment to corrode and clog. Your investment in the Culligan IW RO will give you years of benefits.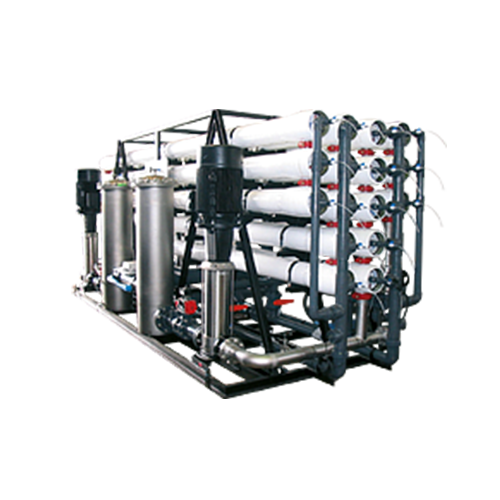 More information about reverse osmosis systems?
Feel free to contact us via the number below or use the contact form.